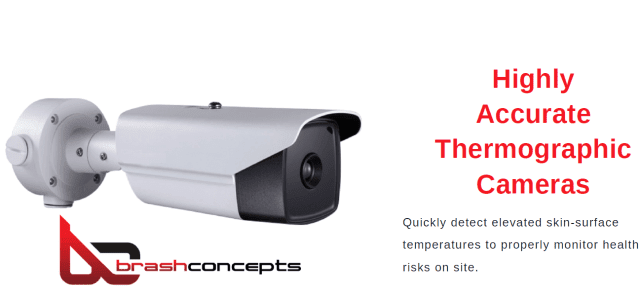 IT and Security Services Company Brash Concepts has begun implementing thermal camera systems on construction jobsites in the New York tri-state area including several properties being built by New Line Structures.
With elevated body temperature being a telltale sign of various infectious diseases, including COVID-19, thermal cameras provide work environments an efficient and accurate way to screen for illness. The thermal camera setup includes a checkpoint where workers approaching the jobsite will be encouraged to do so one by one, pausing briefly in front of the camera to get an accurate reading of their temperature before they're permitted on site.
While the world reopens, the CDC is revising their regulations to include temperature monitoring, advising masks to be worn at all times, and adding social distancing guidelines.
Brash Concepts offers several services and tools to help construction sites, supermarkets, residential and commercial properties, schools, and university dormitories adhere to the "new normal." In addition to thermal camera technologies, Brash Concepts provides video analytics that can recognize if an employee is without a mask as well as adherence to social distancing requirements. The information gathered from these solutions can be used for contact tracing based on federal, state or local government requirements as they become solidified.
To find out more about Brash Concepts safety and security solutions, contact Chief Technical Officer, Yuval Brash: 516-829-3687 or yuval@brashconcepts.com.